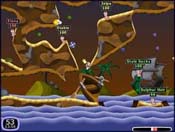 This awesome sequel of the famous Worms game took the second place in the vote for the most popular game in Finland 1997. The prize was well earned, as the Worms 2 packs delicious audio and graphics together with luring playability and an attractive theme. Who wouldn't want to blow cute worms up to the sky? Better even, who wouldn't want blow their friends' cute worms up to the sky? The true challenge rises, when multiple players take part in the slaughter.

MikroBitti provides all the Assembly visitors a free demo client of Worms 2, giving you the possibility to play against your friends using your Internet connection. When you're directly wired to the partynet, your connection will be lagless and games will be more than enjoyable. The game server allows you to chat with your friends (soon to be enemies) before and during the match.

The demo client is somewhat limited from the complete version. Some weapons will be unavailable, and the terrains will not be as detailed as in the commercial version. However, all the necessary elements for reaching the multi-player climax will be available: lots of people and good network connections.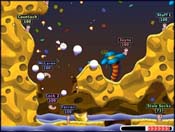 The client will be downloadable from these pages during the party. There is also a separate server for those playing with the commercial version.
Download