Facilities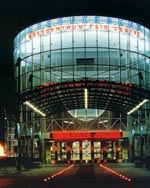 Audio & Video
The main hall will once again feature a (too) powerful sound system. We will have (wow) stereo output and kicking base at 10 000 watts of pure sound power.
The big screen is over 8 meters wide and and supports the 640x480 resolution. Definitely the way to see the demos.
24 hours/day cafeteria
A cafeteria (Carrols) selling hamburgers and other nutritious food is open 24 hours / day.
24 hours/day infodesk
The famous infodesk with friendly personnel is once again there to help you with any problems you might encounter.
24 hours/day luggage service
The luggage service (located next to the infodesk) is open 24 hours / day. The fee for each use of the services is 5 FIM.
24 hours/day security personnel
We have professional security team taking care of trouble makers and thiefs. So don't plan to steal anything.
24 hours/day first aid
A team from the Finnish Red Cross is standing by to assist you with any medical problems you might encounter
PartyNet & Internet connection
The kick ass network is once again at ASSEMBLY. Provided by Telecom Finland we have over 30 megabytes / sec ATM cable and a reliable local area network. Voting and party information will be done in the party intranet. More details can be found at the Network info page.
eZINE
In addition to the cool webTV we will also have a four person reporter team working on a ASM eZINE published at the website. Check out more details here.
Grocery shop
A shop selling refreshments and snacks is open daily in the first floor of the Fair Centre.
Professional cleaning service
A professional cleaning service is cleaning the Fair Centre 24 hours / day. You might still do better to puke in the toilets than in the middle of ASSEMBLY hall =).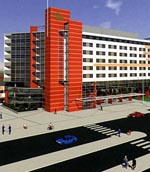 Four star hotel
In the case you have too much loose cash you can spend it by taking a room from the luxorious Holiday Inn hotel that is located 20 meters from the Main Entrance of the Fair Centre.
Sleeping hall
The sleeping hall is open 24 hours / day in a separate building that is completely sound and light proof. You should bring your own sleeping bag and matress.