Hall information
This year the ASSEMBLY takes place in the B4 hall of the Helsinki Fair Center. This is the same hall as last year. Click on the picture for a bigger version of the map.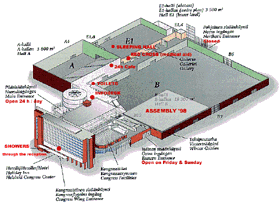 Special Entrance
If you have bought your ticket in advance, you can enter thru the special door that is open on Friday and Sunday.
Sleeping Hall
The sleeping hall is situated in a separate hall for maximum quietness and sleeping comfort. You should bring your own sleeping bag and matress. Note that we do not allow people under the influence of alcohol into the sleeping hall. You should keep as quiet as you can while you stay in the sleeping hall so that everybody can get the sleep they require.
Showers and sauna
Showers and the sauna are located in the Holiday Inn hotel. To get there, you have to go to the reception desk of the Holiday Inn hotel and follow the instructions from there on.